Welcome to the Road Junky Festival of Creativity – you're now booked to come.
There are no tickets – you just show up!
Please read carefully the info below and you'll find  directions at the bottom of the page!
But you should please fill out this form so we have your contact!
And please get your own travel insurance before you come.
and only if you really, really, need to – you can call me on 00420 722609453
See you there!
Tom Thumb
What to bring
a tent
a sleeping bag
a torch
a jacket
a toothbrush
a couple of empty water bottles (the spring is a 10 minute walk away)
some hand sanitiser
toilet paper (enough for 10 days..)
a plate, spoon and cup (otherwise you won't eat anything!)
Insect repellent (even if you don't normally use it. There are many ticks this year)
tick tweezers
a good sense of humour
musical instruments
some little snacks for breakfast
clothes, make up or costume to dress up for the closing ceremony
What not to bring
alcohol (this will be an alcohol-free event – please respect this!)
drugs (same as above!)
dogs – sorry, it just makes for a much calmer festival this way
people who haven't booked a place (space is limited so everyone must book on the website)
belief systems – we don't mind if you're a Christian/Buddhist/Communist etc but please respect the festival as a neutral space where everyone can feel welcome.
addiction to the internet and your phone. We ask you not to use your mobile phone within the festival area so we can focus and be with each other. You can go for a short walk in the forest if you need to call someone. Anyway you can't charge your phone at the festival site as there's no electricity!
How the festival works
There will be a big board with all the workshops on it for the day, letting you know which activities will be going and in which place. If you want to run a workshop or run an activity you just write it on the board!
The program will look something like this:
9 am – first workshop
11 am – second workshop
1 pm – lunch time – listen for the shout of "Food Circle!"
3 pm – third workshop
5 pm – fourth workshop
7.pm – dinner
evening – music, storytelling, games, talks, who knows?
If you want to run a workshop then you should bring the materials you need and plan for it to last around an hour and a half. There will be several possible locations where you can make it – you can decide when you arrive!
FAQ
Can I bring my dog?
Nope, no dogs. Sorry.
Where can I park my car?
Follow the driving instructions at the bottom of the page and park outside of the main field.
Can I come with children?
Yes. Children under 12 are free and between 12-16 they're half-price. This you can give us in cash on the site.
What will the weather be like?
We don't know.
But it is at 681 metres altitude so best to bring some warm clothes and a decent sleeping bag just in case.
What kind of food will be served?
We will be serving delicious vegan lunches and dinners, and there will be a chai space where tea will be made at all hours (though at 3 am you might be the one making it!). For breakfast there will be a piece of fruit and leftovers from the night before. Maybe some oats and sultanas, too!
It's no problem if you're gluten-free.
Can I go naked?
It's ok when swimming in the lake but not in the rest if the festival area.
What clothes should I bring?
The weather can vary a lot. So be prepared for hot, sunny, cold, rainy days.
And bring something fancy to wear for the closing party celebration on the last Saturday!
How to Get There
The exact coordinates are:
Longitude: 14:33.28526
Latitude: 48:42.33353
The nearest village is Malonty near Ceske Budejovice.
A good website for trains and buses connections in Czech Republic is idos.cz – it even helps if you're coming from Poland or Slovakia, for instance. Be aware if you take trains that there is more than one train company in Czech Republic so make sure you're on the right one!
You can book a train ticket online here https://www.cd.cz/en/default.htm#
There are direct trains ftom Prague to Kaplice. BUT you have to take a separate bus from the Kaplice train station to the Kaplice bus station (4 km away) to get a bus to Malonty. The bus station is close to the centre of town.
Or just hitchhike from Kaplice.
ATTENTION: There is no  bus to Malonty on Saturdays! And just one on Sunday at 14.45…so the best way us with taxi.
There is the local taxi service which only speaks Czech but knows where the festival is and that foreigners are trying to reach it from Kaplice train station. They might charge around 450 Czech crowns = 18 euros.
You can call them at +420 380 311 515
Some local friends are also running an unofficial service bringing people to the festival and they can be reached at +420 777938505 and will ask 350 Czech crowns = 14 euros
Probably you will be able to share the journey with someone else..
If you are driving check directions at the bottom of the page.
[Note: there is a rainbow gathering happening 15km from us over the month of June. Don't follow any hippies there by mistake! And absolutely don't let any of them come with you to the festival! Even if they do feel the universe is 'giving them signs' to come…
How to walk to the festival from Malonty?
[PLEASE DON'T TRY TO DRIVE THIS WAY! Driving instructions are at the bottom of the page]
Here is a map with the walking directions and some photos below in case you're one of those people who doesn't know how to read maps…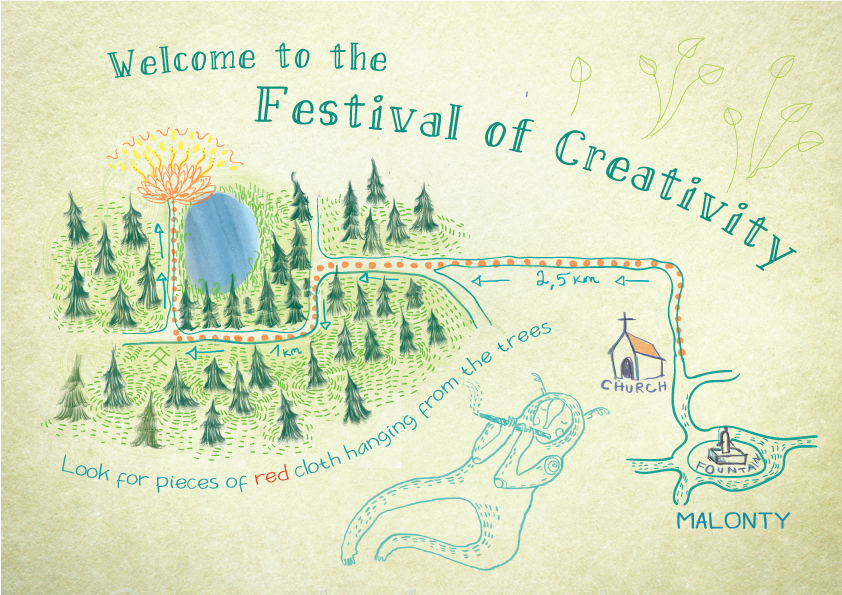 And here are the photos: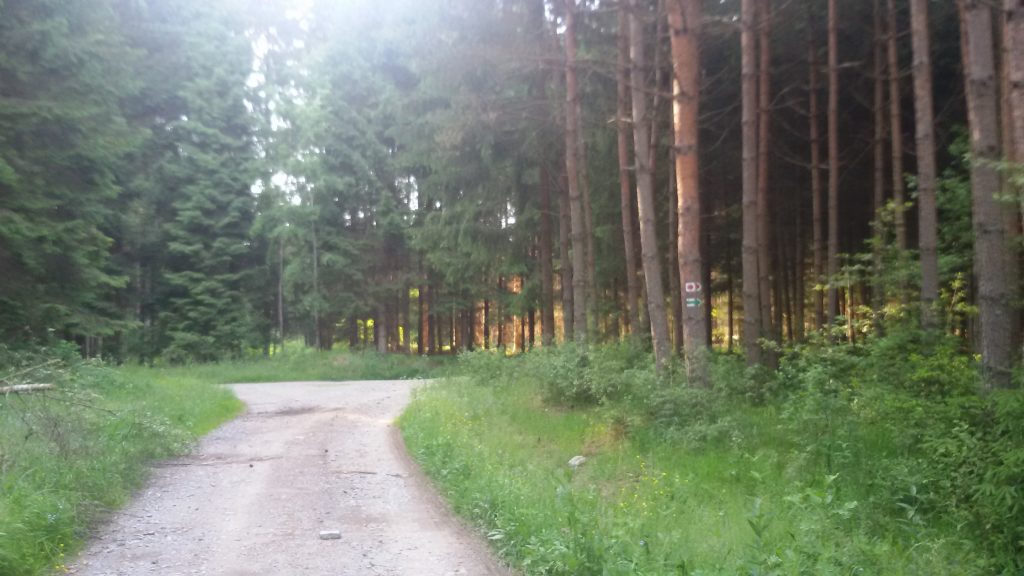 Now pay attention! You can go left or right.The official walking signs say to go right..But no! You go left!
Driving instructions
You drive up through Malonty and take a left at the sports field in the direction of Mezericy.
You pass Mezericy and continue for about 3 km more, passing some houses, then on a curve to the right there are yellow sign posts and two dirt roads – one going left, one going straight.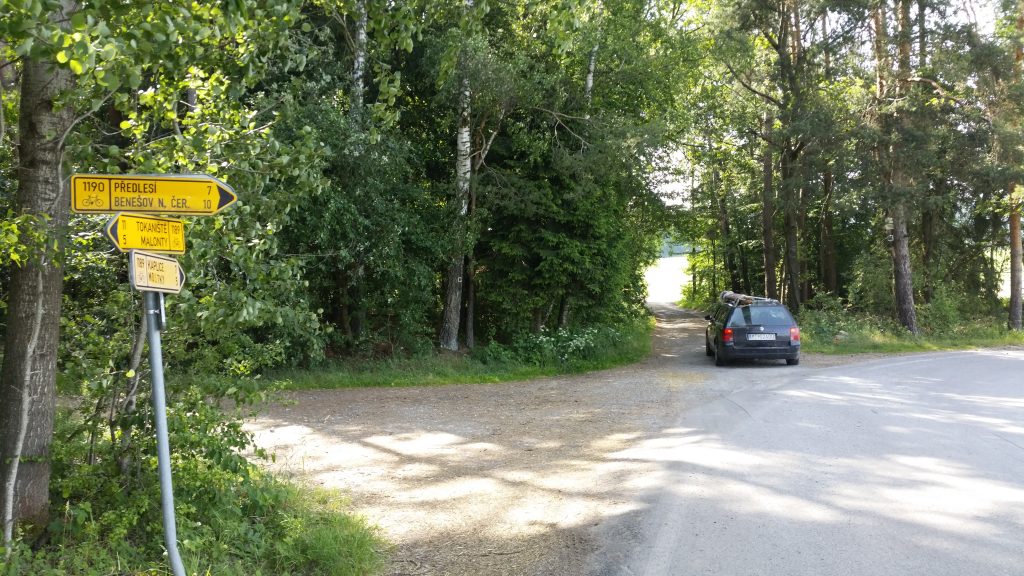 You take the dirt road going straight.
Then after 1km you turn left down the hill (the road is not very good)  and  you will soon see the festival and after 500 metres you will see the parking.